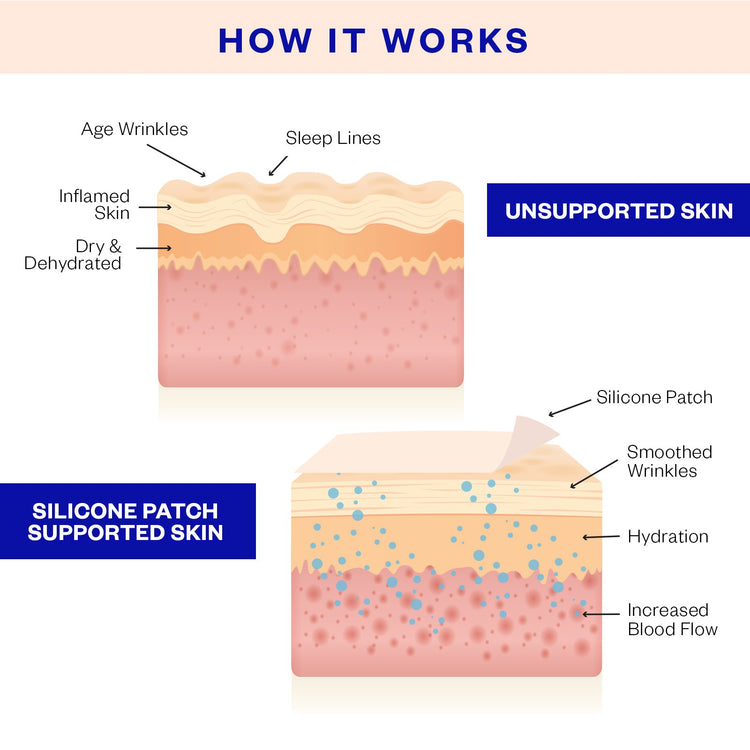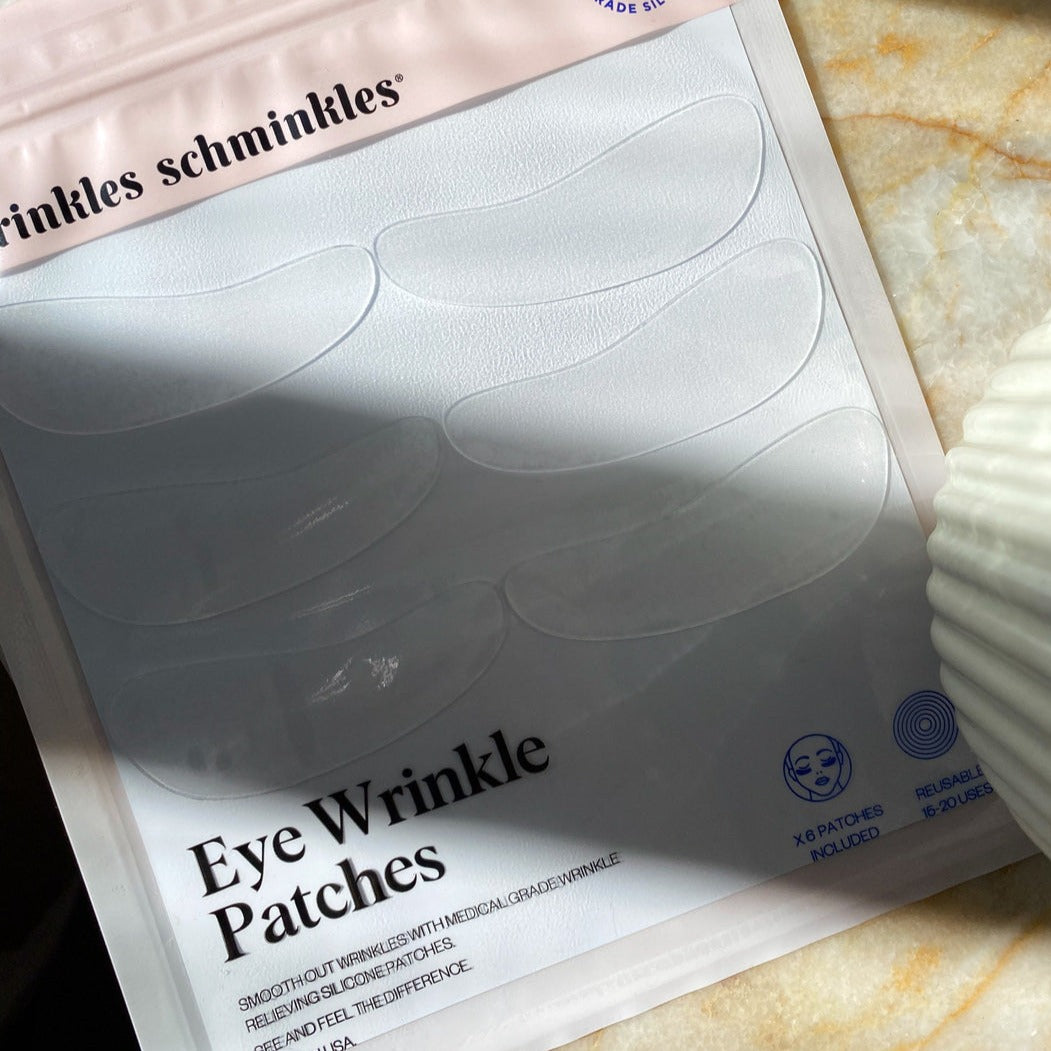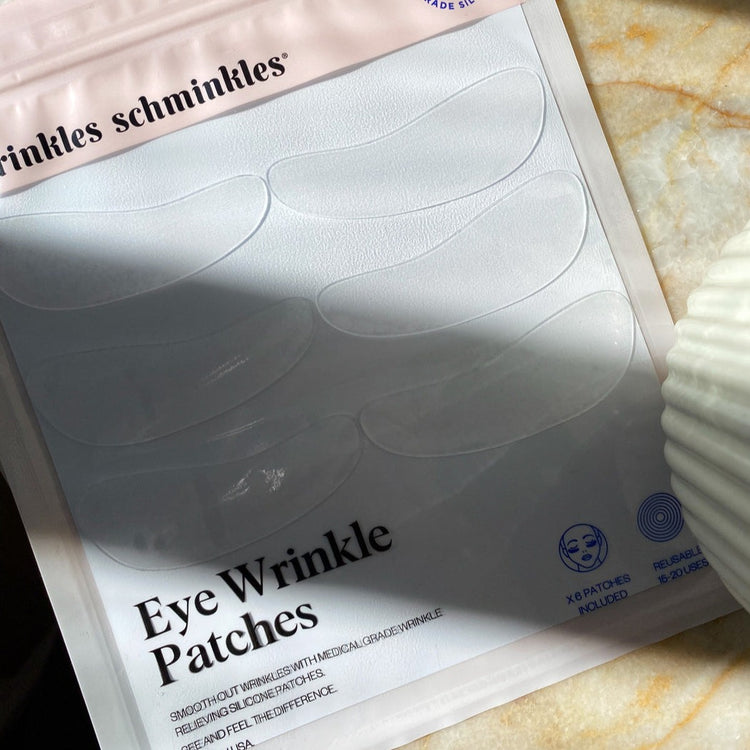 Wrinkles Schminkles

Eye Smoothing Kit
Sale price

$21.00

Regular price

$30.00

Unit price

per
This [limit-type] has a [limit-qty]-item limit per order
A little patience goes a long way.
This item is not available just yet, but you can Pre-Order it now.
Check out our Pre-Order Policy to learn more.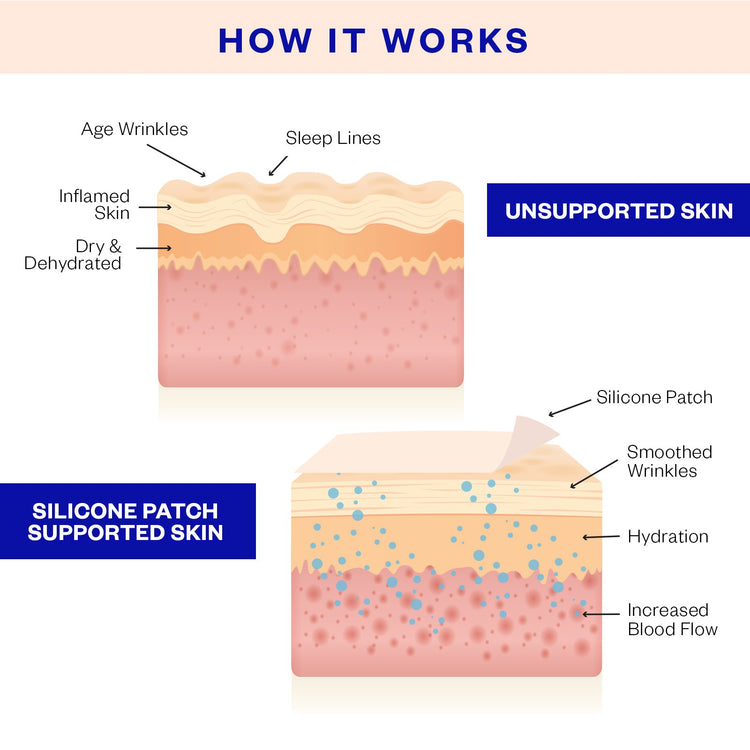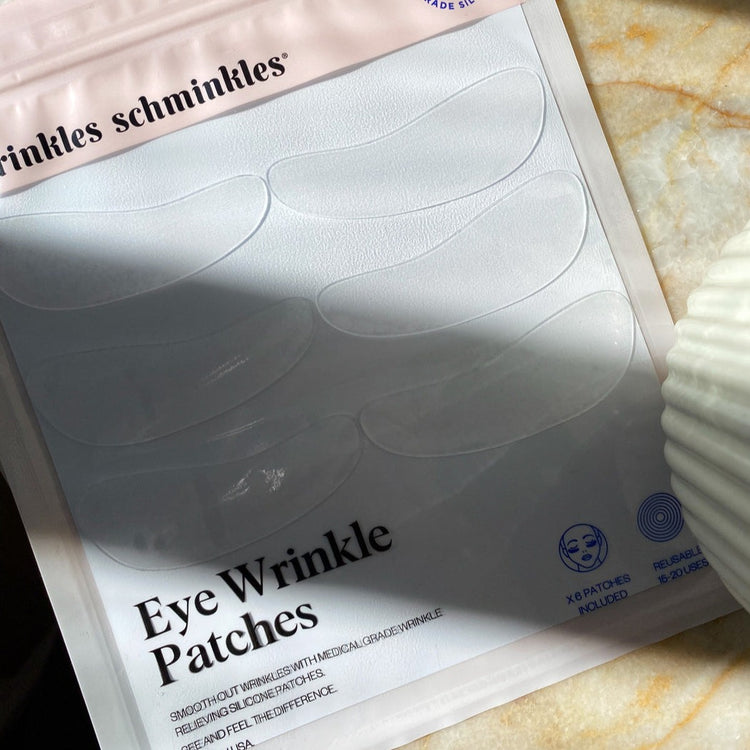 Banish those crow's feet, under eye wrinkles, dark circles, and puffiness using our Made in the USA 100% Medical Grade Silicone Eye Patches.  
Whether your signs of aging around the eyes are hereditary or caused by age, tiredness, or your sleeping position, these innovative patches are perfect to wear while you sleep to smooth away wrinkles and hydrate or in the morning to de-puff and reduce dark circles, or as a pre-makeup skin plumper.  
Our under-eye patches create vibrant and brighter skin by comfortably hugging the skin under the eye preventing it from creasing, creping, or wrinkling. At the same time, the patch on the skin aids in the body's natural ability to draw hydration to the skin's surface and produce collagen – the protein that gives us beautiful skin.  
Wake up to wrinkle-free skin after your first use, and slow down the development of future wrinkles with regular use.   
 "The pads help prevent transepidermal water loss, locking in moisture so the skin will be better hydrated and better able to repair itself and produce collagen." – Shape.  
 "The ingenious invention praised by Shark Tank and Khloe Kardashian and promises to eradicate wrinkles." – Daily Mail.  


HOW IT WORKS: 
Gently adheres to the skin while you sleep to prevent creasing 

so

 wrinkles cannot form. 

 

The magic of the Medical Grade Silicone gets to work on your skin by kick-starting your 

skin

'

s

 natural ability to hydrate and retain moisture.

 

The microclimate formed between the skin and Silicone Patch stimulates blood flow and that all-important collagen production and retention.

 

Recommended by dermatologists, cosmetic skin doctors, and beauty editors across the USA. 

 


BENEFITS & FEATURES:  
Non-invasive and affordable wrinkle-free eye patches.

 

Treat wrinkles caused by aging, tiredness, sun damage, and side sleeping. 

 

Deliver

s

 best results while you sleep or 1-2 hours to instantly plump the skin. 

 

100% Medical Grade Silicone Patches. 

 

Multi-use: Reusable for 15-20 times per pack.

 

Hypoallergenic for sensitive skin types. 

 

Made in the USA with the highest quality medical grade silicone.

 

FDA listed giving you confidence. 

 

Measurements

: 

3.14 x 0.98 inches.

 
 
TOP TIP: GET MORE USES OUT OF YOUR PATCHES BY USING OUR SPECIALLY FORMULATED CLEANING SOLUTION; DESIGNED TO CLEAN YOUR PATCHES, PROLONGING THEIR LIFE TO GIVE YOU WRINKLE-RELIEVING SWEET DREAMS AGAIN AND AGAIN (AND AGAIN). 
Wrinkles Schminkles Eye Silicone Patches are a must-have for reviving sleep-deprived, age-affected, or even hungover skin so you can look awake and refreshed – even if you don't feel like it on the inside! 
 
WHATS INCLUDED: 
3 Pairs of Reusable Silicone Patches (15-20 uses per pack).  
 
INGREDIENTS: 
100% Medical Grade Silicone.  
 
HOW TO USE:  
Cleanse and dry skin keeping it free of ANY skincare.

 

Peel away the plastic layer of the Silicone Patch to reveal adhesive.

 

Stick Silicone Patch on the target area, adhesive side on skin. 

 

Wear while you sleep for best results or 1-2 hours for a boost.

 

Gently peel off Patches, sticking them on the enclosed storage sheet.

 

Clean patches if required or every few uses with our Cleaning Solution.  

 


OUR EYE PATCHES ARE PERFECT FOR: 
Smoothing 

crows

 

feet

 and

 under-eye wrinkles.

 

Reducing dark circles and puffiness.

A non-invasive alternative to injectables. 

 

Prepping for 

the skin f

or a special event.

Morning application to de-puff.  

 

Nightly/daily use for the best results.

 

Bridal skin prep or Mother of the Bride. 

 

Pre-make up skin plumper.

 

Getting skin Summer ready. 

 

Combatting dry Winter skin.  

 


CLINICAL EVALUATION FINDINGS: 
 A Clinical Evaluation of 92 women in August 2019 found: 
WRINKLE REDUCTION - 89% of women who used our Eye Smoothing Kit saw a reduction in crow's feet and under-eye wrinkles. 
DARK CIRCLE REDUCTION – 75% of women who used our Eye Smoothing Kit saw a reduction in under-eye dark circles. 
REDUCED PUFFINESS – 88% of women who used our Eye Smoothing Kit noticed less puffiness and eye bags on their skin.  
FIRMER SKIN - 90% of women experienced firmer skin.  

REHYDRATION - 92.1% of women experienced more hydrated skin.
IMPROVED APPEARANCE - 97.8% of women saw an improvement in their appearance.  
Choosing a selection results in a full page refresh.